Custom Audio and Security Installation
When it comes to your car, it's more than four wheels and an engine. At Cave Audio, we know it's your pride and joy: a statement about your style and an investment you take seriously. That's why we're more than just a car audio store in Woodburn, OR. We customize your experience by providing innovative audio solutions to get you the sound you want. From simple upgrades to a factory stereo system to a completely tricked-out system with crisp audio and bass you can feel, we've got top-of-the-line products in stock, ready to install.
Security is also an important facet of vehicle upgrades, which is why we carry some of the best alarm and security systems on the market. Especially if you've invested in a quality audio system, you'll want some extra peace of mind. We're ready to protect your car with a custom security system. We're trusted installers of dependable car alarms in Woodburn, OR. We know that an alarm system needs to be absolutely reliable and work when you need it to, which is why every installation is clean, thorough and tested. We also offer car remote start installation, providing everyday comfort and convenience and remote monitoring for your vehicle.
Throughout our entire range of services, we only use quality, trusted brands. If you're making the investment to customize your car, you want the best—and we want the best for you. We install it all, to enhance the daily experience of driving your car.
Meet The Owner
I am Steve Grigorieff, founder of Cave Audio. I have almost 30 years of audio installation experience in the great city of Woodburn. Since opening the doors here on 99E I have served thousands of clients. Here at our car audio store, we pride ourselves on excellent customer service and quality assurance. Come by today and see what we can do for you and your ride.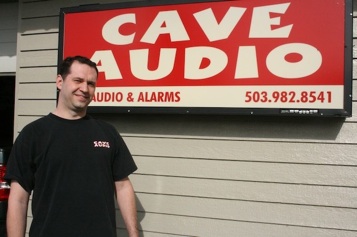 No install is too big or too small, and we work on all vehicle makes and models.

We offer a full line of audio products, including speakers, amplifiers and more.

We're up to date with the latest technologies and up-and-coming car audio products.

Our service speaks for itself—check out our glowing customer reviews.

We only work with quality brands, including Infinity, Kenwood, Dynamat and more.
Customizing Your Vehicle
At Cave Audio, we offer far more than speaker systems. We know that customizing a car is an opportunity for self-expression, and customers rely on us to get the job done right.
Canby, OR
Wilsonville, OR
Newberg, OR
Hayesville, OR
Keizer, OR
Sherwood, OR
Salem, OR
Tualatin, OR